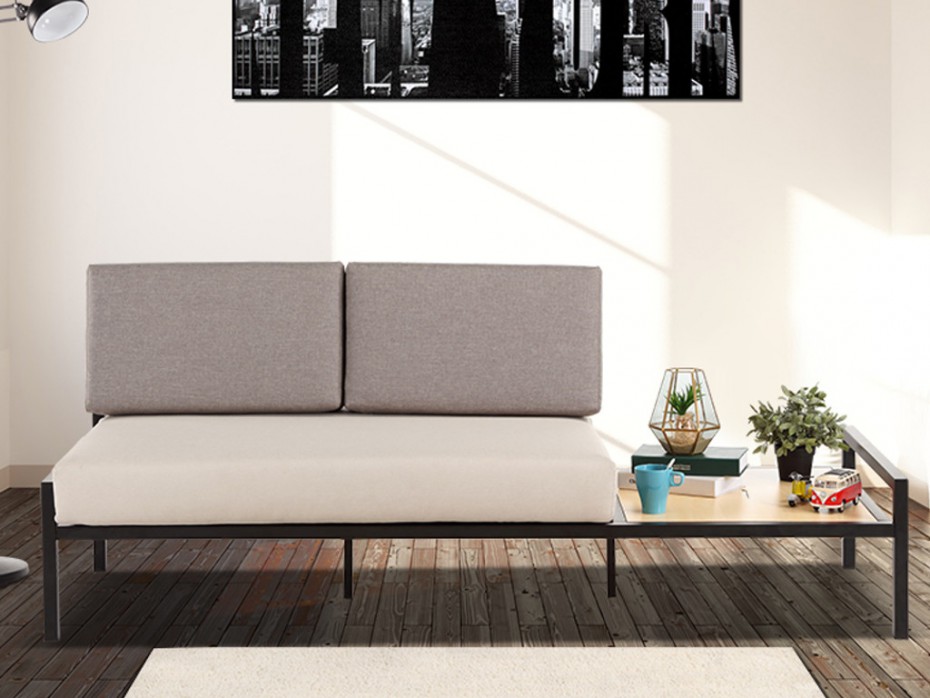 Oct
03
Storage and Open Concept Areas
Open areas can be difficult. Even if only a part of your house is open concept, or your whole living space is, open concepts are an interesting challenge to those who are up to it.  
Open concept spaces are chosen for their light, the feeling of freedom they inspire and the multiple possibilities they offer. However, since open spaces can be organized in so many ways, you can become easily discouraged with a more or less large empty space that needs to serve several functions. 
Storage solutions are one of the first challenges to be addressed in open concept spaces. It is very important to think about this practical element, and include storage solutions from the very beginning of a project, since they will inevitably have to be considered.  
Here are some tips on how to organize an open concept space using various storage solutions. 
Creating zones
Whether your open concept space is intended to serve as two "rooms" or more, there is a way to create such spaces.  It consists of using visual cues to create identifiable zones that can be considered "rooms."   
Carpets are most often used to create these zones. Whether solid and understated, or crazy full of patterns, carpets define zones and serve as guides for arranging furniture. 
However, there are also other ways to create these spaces. Several of these solutions also have the possibility of offering storage solutions, either to hide certain objects, or to feature others.
Sofas, small tables and benches
An excellent way to define your space is by how you arrange your furniture. Several types of furniture can help you achieve this, and offer storage.
Sofas with integrated tables are perfect to define a space for relaxing while providing a practical surface on which to put small objects. The same thing can be said for small side tables with several shelves that can be paired with ordinary sofas.  You don't like to see the back of your sofa? Put a beautiful console table against it with a shelf, or a more imposing piece of furniture, mid-century style for example, with shelves and sliding doors.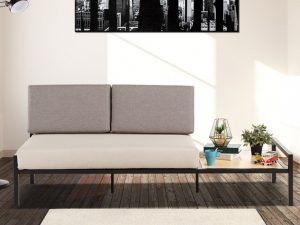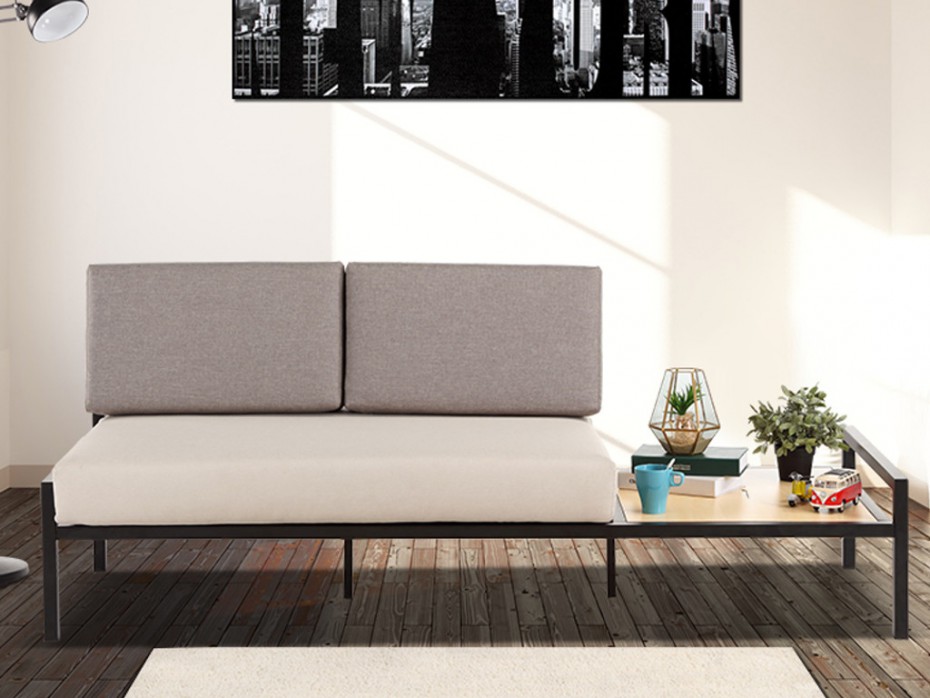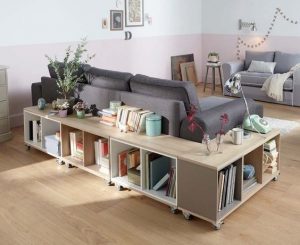 Ottomans, benches, stools, poufs and other foot rests are another type of furniture and that help define a space and provide storage. They all can be found in versions that include storage space; there is such a wide variety that it is easy to include one in your décor.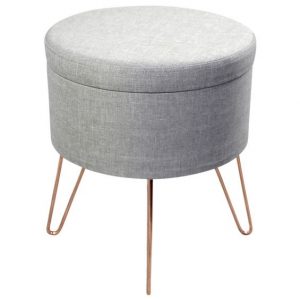 A coffee table, whose place is usually in the middle of a space, won't physically define a space. But if it has enough personality, it is possible for it to attract enough attention to do so psychologically. With several shelves or a closed storage area, a coffee table can also serve as a storage unit.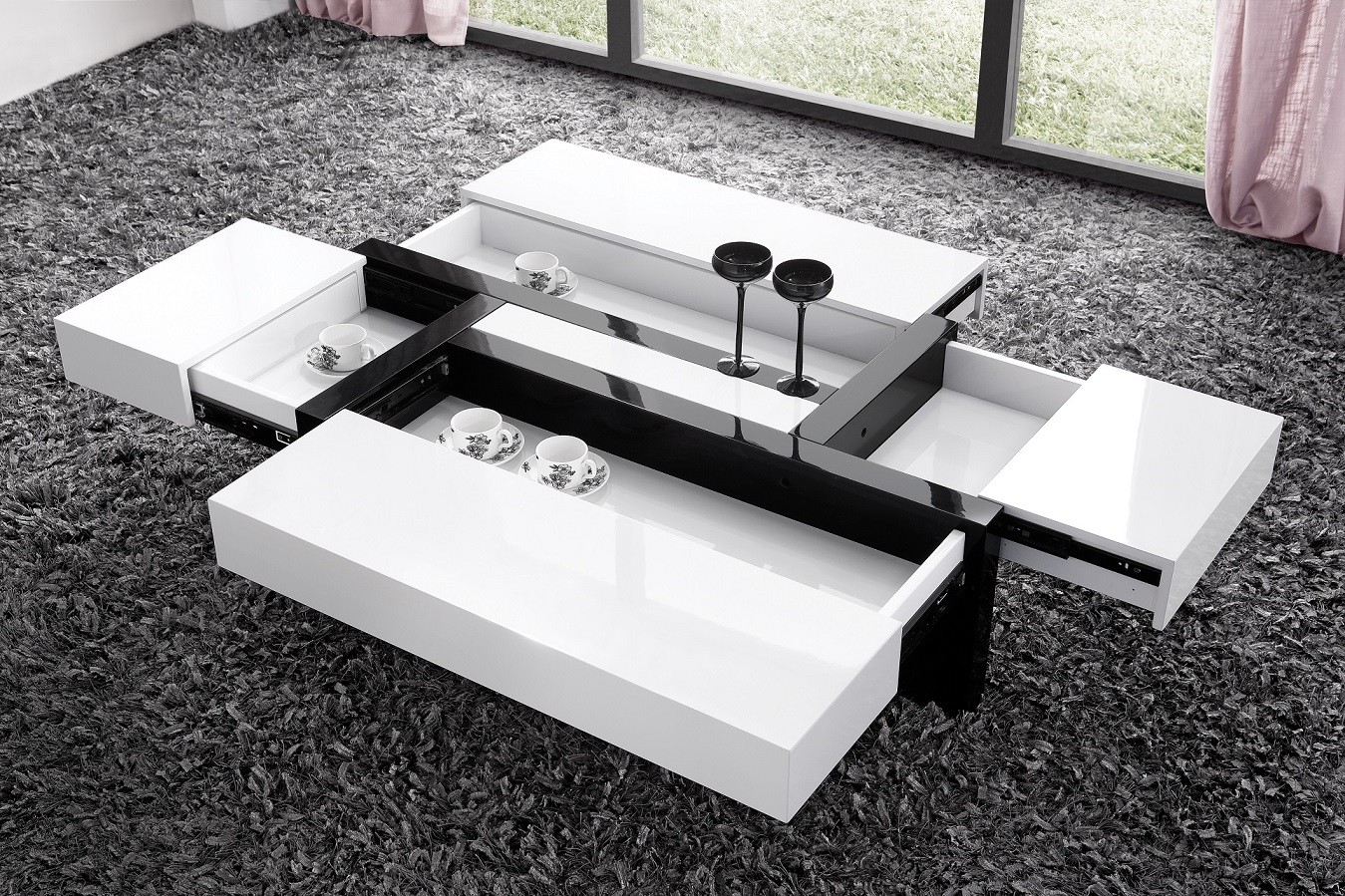 Bookcases and shelves
Bookcases and shelves are excellent dividers. A massive bookcase with a back creates a true division between two spaces that you want to separate from each other. On the other hand, an open bookcase or delicate shelving unit can create a soft transition between two spaces, and create an indirect connection.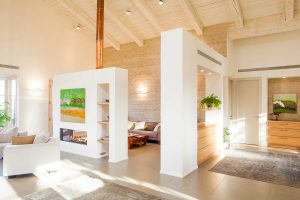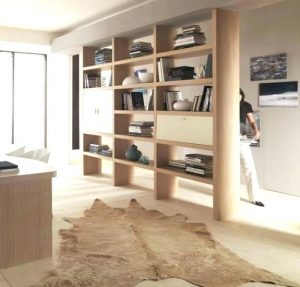 Photo credit : Collège éducation
They can also act as real partitions, as wide as you want, and can serve as a storage solution for various objects.  
Room dividers (screens)
Finally, a room divider with small shelves will create an elegant separation, for a small relaxation or office space.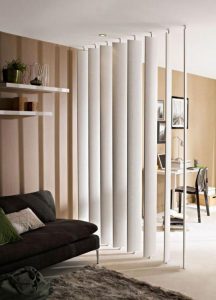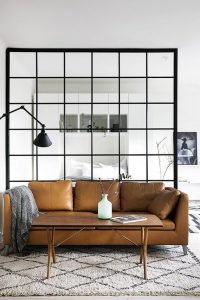 Wall storage
Now that you have an idea of how to organize your open concept space, here is how you can use the walls.
Creating distinct spaces in an open concept space is an interesting exercise: you have to define the spaces, but also create a connection between them so that the whole remains harmonious. Furniture and decorative elements found throughout, as well as open shelving, are ways to achieve this.
Another way to connect two spaces is to install a wall storage unit that is in both of them. If you do so, then you have to take care to differentiate the arrangement of elements in each side (cabinets, shelves, drawers, etc.) so that the connection is subtle and sophisticated.
However, beyond this uniting function, wall storage is almost a must in an open plan space, because it takes care of many objects that are hard to hide from view otherwise. Here are some helpful tips: 
If you want your wall storage to be more discreet, install it in a less busy area or one with strange architectural features, or maximize those nooks and crannies that are sometimes complicated to use otherwise. 

Make sure that your storage unit isn't as high as the ceiling. This can create an oppressive feeling. Remember to leave a space between the top of your unit and the ceiling. 

Don't overload the walls of your open concept space. It is very tempting to use the space as much as you can, but completely covered walls can create a closed-in feeling, which isn't what you are going for. 
If you choose to install shelving on the walls, choose models with pure, simple lines, for an airy, relaxed appearance. 
To vary the way the walls are used for storage, instead of having storage that juts out from the wall, why not create alcoves between the wall studs, and feature them in a unique way? 
Other original solutions
There are also all sorts of other ways, more discreet or more extravagant, to maximize storage in your open concept space. A beautiful antique, or even modern trunk placed strategically can be useful, just like flexible storage solutions such as a sideboard or large platter, which allows you to move objects from one zone to another.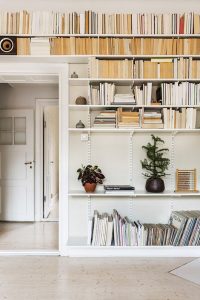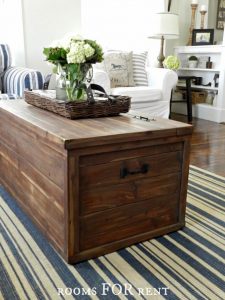 If you need a more radical solution, or a space to hide larger objects for example, raising a part of the floor can be considered, to create a large storage area that is invisible.  
Open concept is more than a style of decoration or organization. It is practically a way of life and to make the most of it, you have to organize your space intelligently. Start by analyzing your needs and carefully choose the storage solutions that suit you best.