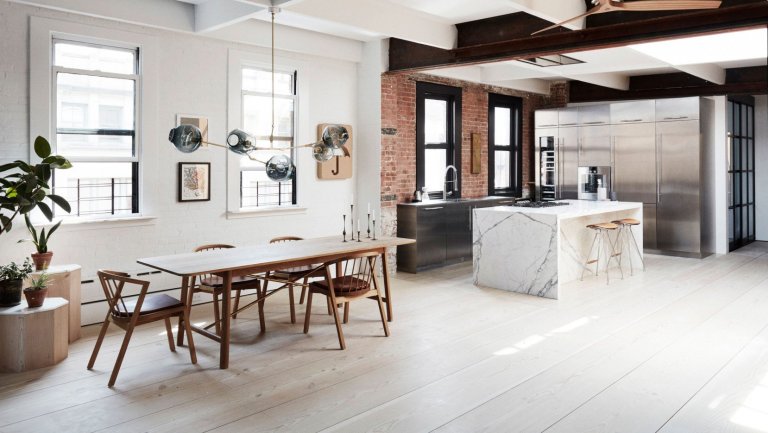 Aug
14
From Art Deco to Modern Design
Of all the styles that have appeared throughout the history of interior design, some have continued evolving up to our era. Adapted to today's reality, they utilize the enormous wealth of materials, textiles and products currently available, yet remain true to their roots.
The interior design styles that we find in our living spaces in 2019 were born primarily during the 20th century and at the beginning of the 21st. Many can be adapted to various environments. Some of them even stand out due to their new-found popularity in recent decades.
Art Deco design
The Art Deco movement was born in the years 1910-1920, from the creators' wish to deliver their interpretation of modernity. The key words of this style? Luxury, charm and exuberance. Art Deco is embodied in the opulent design of The Great Gatsby, and the charm of Joan Crawford's old Hollywood. 
Art Deco style is first and foremost characterized by the geometric patterns and shapes found on carpets, wall coverings, cushions, etc., or in the shape of a grand hexagonal mirror or circles cut out of the sides of an armchair. It also uses the themes of travel and exoticism with patterns inspired by the animal and botanical world; materials such as precious woods, glass, mirrors, feathers, shiny fabrics; finishes like mother-of-pearl or tortoise shell, metallic paint and lacquer. 
Art Deco colours are ideally more or less neutral, with room for a parsimonious use of bright accents. However, the contrast between black and white, or even black and yellow, is also another iconic symbol of this style.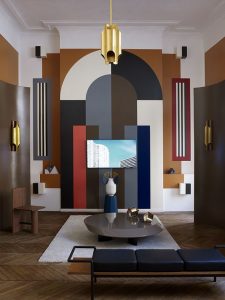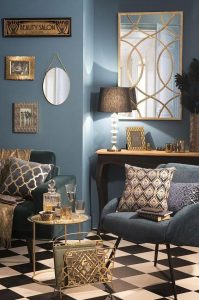 The pinnacle of modernity
Three styles from the years 1930 to 1960 still hold a special place in the hearts of interior designers. They also influence each other as they appear and develop, and the three have at least one thing in common: a desire for functionality.
Modern design
Modern interior design, born in the middle of the 1930s, was the first to mix form and functionality. It retains the appeal of noble materials from the beginning of the century—especially exotic wood whose light colours are particularly appreciated —and favours clean lines. To contrast with the simple lines and colours of the furniture, graphic prints and colours like turquoise, yellow orange and olive green are used to decorate walls and windows and in accessories. 
Scandinavian design
Scandinavian interior design as it is known today also has its roots in the 1930s, but developed more during the 1950s. Also guided by the need for functionality, the notions of durability and minimalism were also included. 
Scandinavian design can be summarized as white walls to reflect light, wooden floors, and light-coloured, modern furniture. A rather neutral palette of colours—a few discrete colour accents are allowed—bare windows, floors without carpets and an airy arrangement of elements also contribute to define this style which emphasizes a minimalist esthetic and the contrast between a comfy cozy  environment and furniture with personality.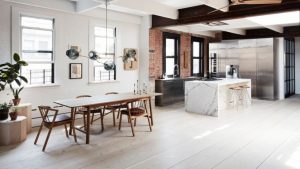 Minimalist design
The third style in this trend is minimalism interior design, whose motto is truly "less is more" which appeared in the late 1950s in continuity with the two previous styles. At its extreme, it is a the most basic expression of modern style, and essentially emphasizes function.  
The goal? Eliminate obstacles to sight and movement. Clear spaces reflect a clear mind. Pure lines and flat surfaces are also chosen for countertops and furniture. Pale colours dominate the minimalist interior, in which space is as important as furniture and objects.  When it comes to furniture and objects, there should be as few as possible, and they absolutely must meet the requirement of utility. Everything else must be hidden, except perhaps for a few decorative items here and there, to break up the monotony in a refined way.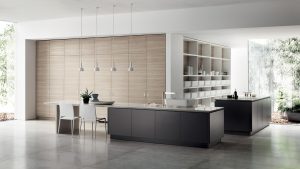 Industrial design
Towards the end of the 1960s, a movement began in New York whose impact could not yet be measured, but which would definitely influence future trends in interior design. Artists, looking for inexpensive places to set up shop, started to take over old, abandoned industrial facilities, after this type of building had been established outside of urban centres in previous decades. The rest, as they say, is history.  
Industrial interior design harks back to its origins with the use of concrete, metal, wood, and the exposure of bare brick walls, for example, or pipes, especially on the ceiling.  Textures are raw, signs of wear and imperfections are de rigueur. The colour palette is often sober and makes the most of the colours of materials such as the grey cement, the shades of old wood and black cast iron.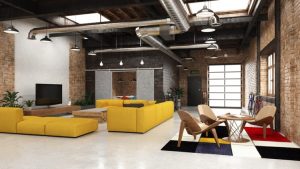 From the country to the city
Rustic design, inspired by old country houses, enjoyed a revival in interior design around the 2000s, and its influence is undeniable.
To play it to the max, there is one theme: wood. On the floor, walls and ceilings, for furniture and decoration, wood is omnipresent in rustic design, lending a warm, cozy feeling. Rustic style also uses other raw materials such as stone, wrought iron, and in lesser quantities, metal.
Colours associated with rustic interior design are mostly neutral and natural, such as taupe, sand, brown and other earth tones. 
This trend is so popular that it comes in many versions. In its purest form, true country-style, it includes lace curtains, wild flowers, and antiques found in flea markets. For a more masculine version, it focuses on the hunting and fishing esthetics of a chalet. For a more chic version, it includes things like an elegant chandelier, silver accessories and soft, shimmery fabrics.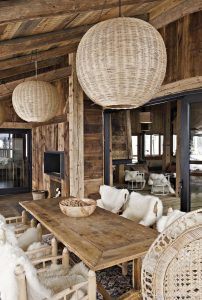 Modern and eclectic styles
These two decorative styles are associated less to a specific era or a physical place.  
Modern style
Modern design is defined as "what is done now," and therefore, it can be difficult to determine trends. It does, however, sometimes use certain notions of modernism, with which it is sometimes confused.
With its natural materials, original shapes with soft lines, and neutral colours such as white, black, grey and beige, modern interior design is synonymous with refinement, delicacy and calm. With minimalism, modern style shares a love of clear, empty spaces but uses a play of textures, shapes and touches of colour to create a sophisticated, yet lively environment.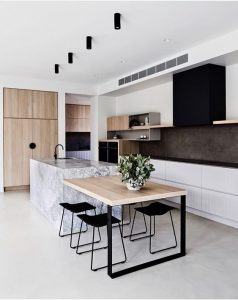 Eclectic style
It is also difficult to date or locate the origin of this style of decoration, since, by definition, eclectic style is a vibrant blend of several styles and eras. It is perfect for those who can't decide on a specific style, since it allows those who love different types of furniture and unique, unrelated objects to use them in often surprising ways.
In the eclectic style, which is original and timeless, textures are mixed and contrasts are celebrated. 
The challenge with this type of interior design is to create a sense of harmony, despite the various references. How is it done? Highlight a particular pattern, shape, colour or texture in order to create a connection between elements. It is also important to leave some space empty in your eclectic design, so that the eye can rest from time to time.