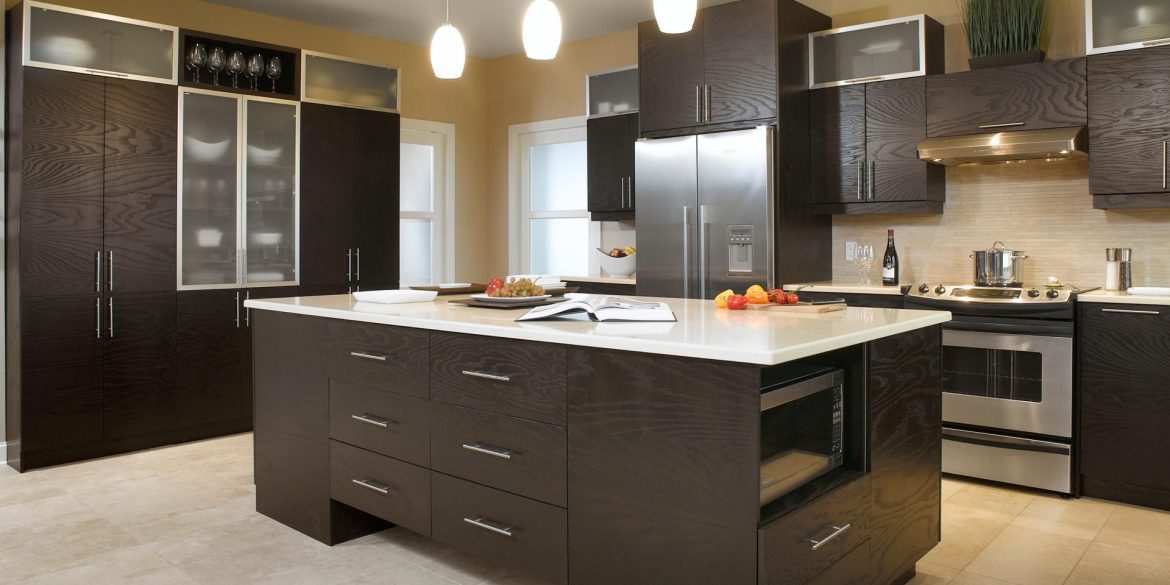 Nov
14
Kitchens 2019: On-Trend Materials
When the time comes to select the finishes for your kitchen, you will have a wide variety of choice. Cabinets, countertops, islands, backsplashes and sinks are all elements which contribute to creating the personality of your dream kitchen.
Beside the look and atmosphere you want your kitchen to have, other factors should be considered when choosing materials destined for this important space which has specific requirements: durability, maintenance, resistance to heat, humidity and stains, and of course, cost.  
Cost is probably the one that will have the most influence on your choice. But who knows, maybe a thorough study of the characteristics of each option could tip the balance towards a more upscale product with the idea of making a long-term investment.
Here is a look at the materials for 2019 kitchens, from the most affordable to the most avant-garde.
Melamine, polyester and laminate
Due to their reasonable prices, these three materials can be found in many kitchens in Quebec.
Melamine
Melamine refers to particleboard or MDF panels covered with decorative paper impregnated with a resin called melamine. Long associated with the lower end of the market, today melamine is offered in a wide range of finishes and colours, including very convincing wood imitations. It is easy to clean, but easily dented and scratched. It has a limited useful life.
– cabinets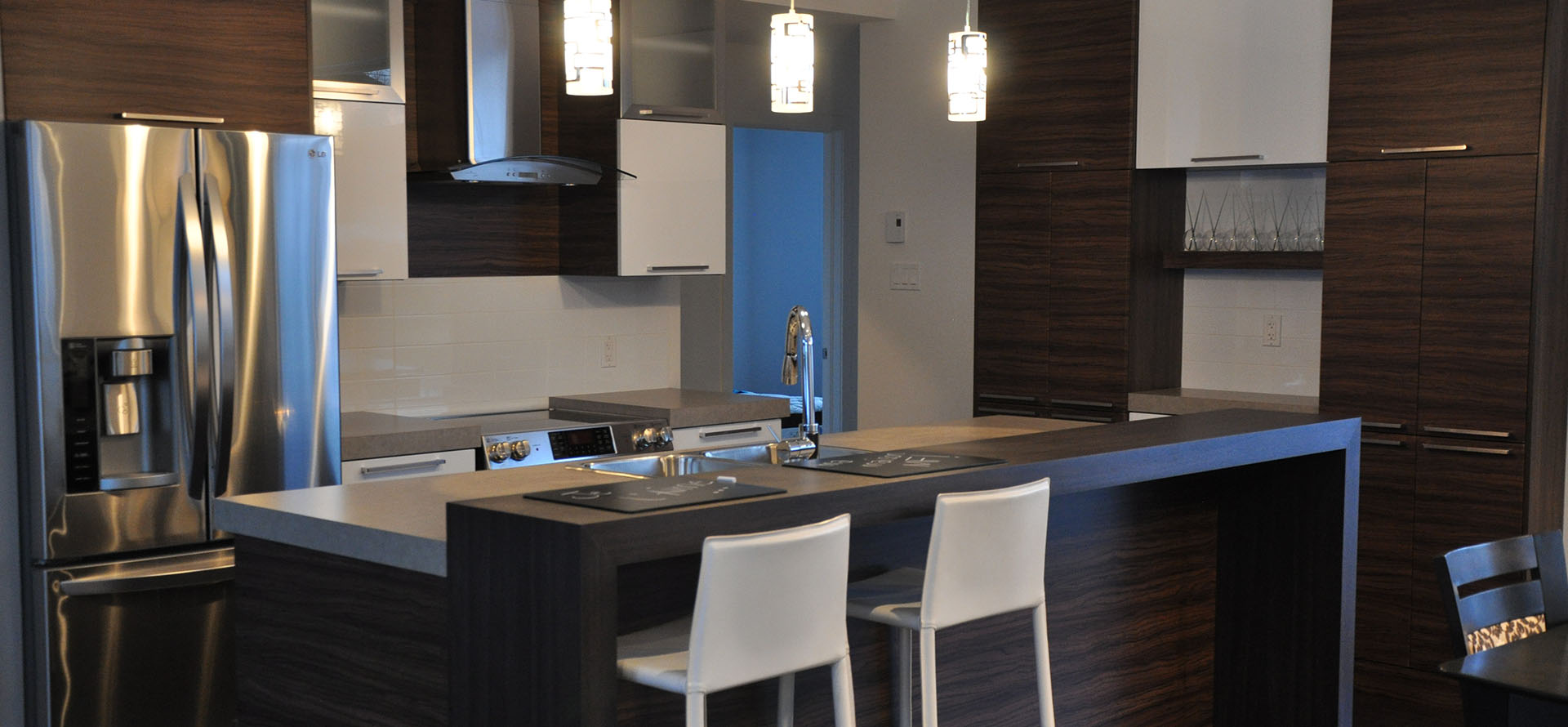 Photo credit : Cuisines modernes
Polyester
Polyester is in fact a pine fibre melamine board covered with polyester. It offers the same type of colours and finishes as melamine, but is more resistant, though scratches can be difficult to hide.
-cabinets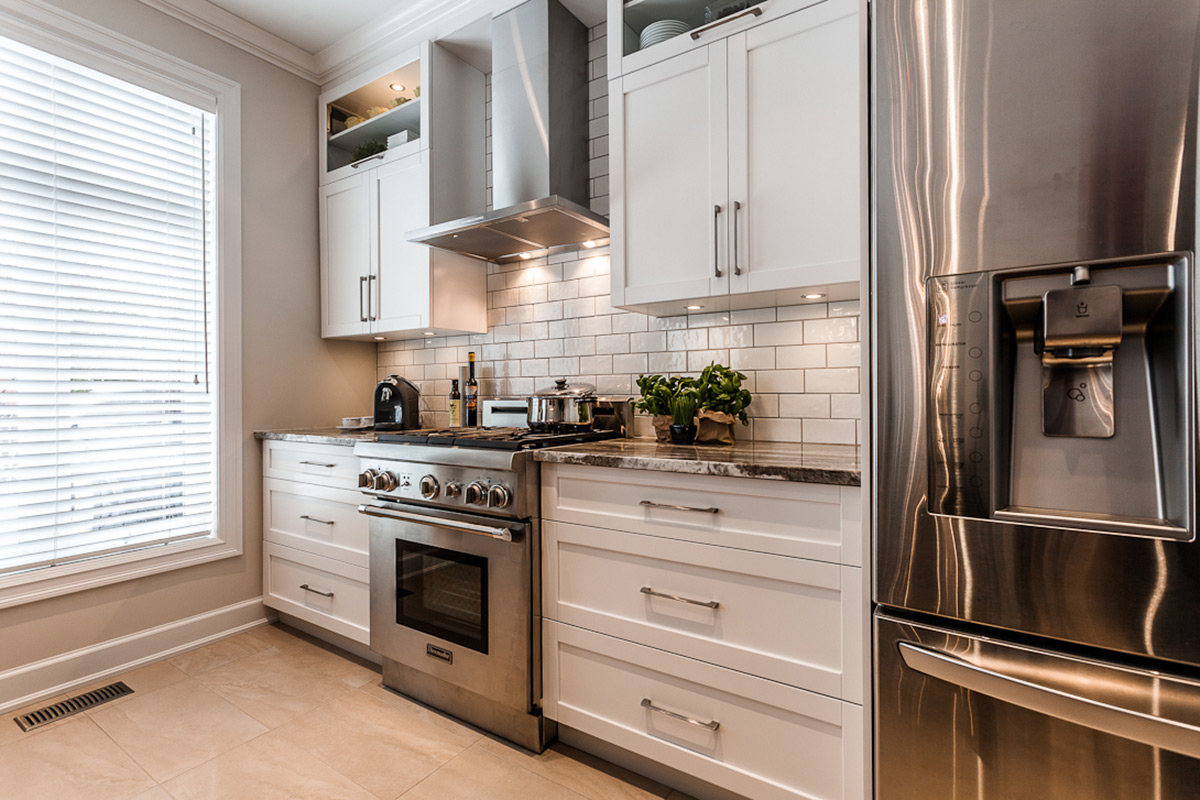 Laminate
Laminate is made of superimposed kraft paper sheets covered with decorative paper. The sheets are also impregnated with resin and hot pressed. It is much more resistant than melamine, but it also slightly more expense. 
– cabinets, counters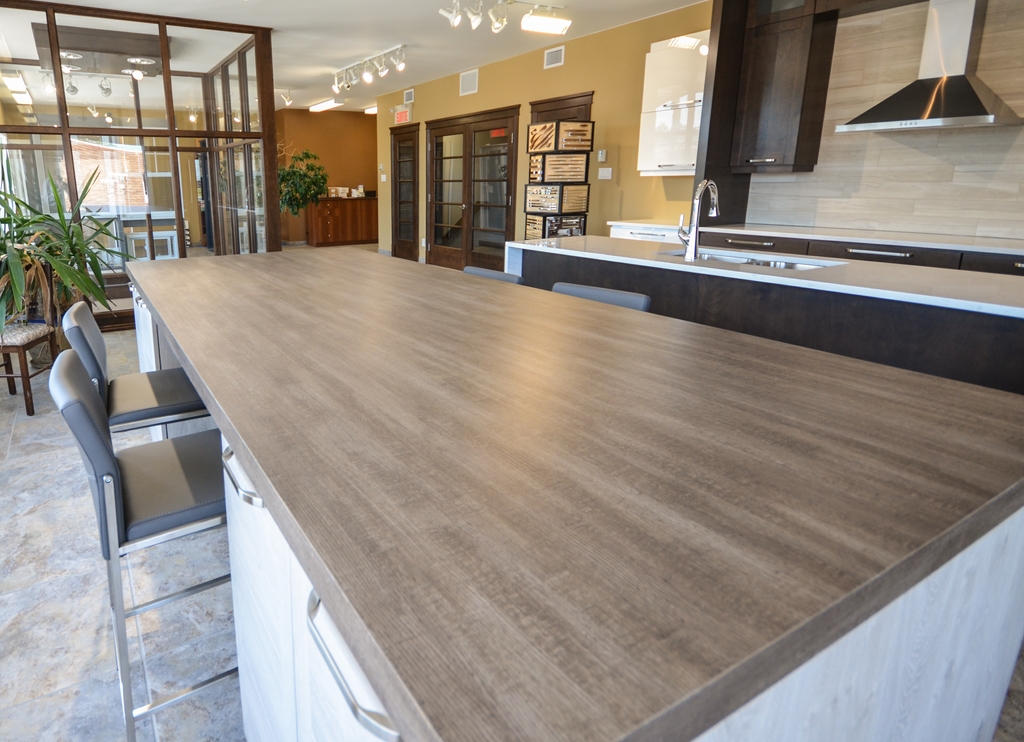 Thermoplastic (or polymer)
Thermoplastic is made of MDF covered with PVC. Since it is molded, it has no joints and can take many shapes. With a matte finish, it is a great imitation of certain types of wood, while with a glossy finish, it gives modern kitchens a refined look.
– cabinets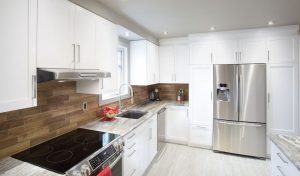 Wood
Wood really doesn't need an introduction. It is a material that has long earned its reputation since it can be adapted to several kitchen styles, depending on the type chosen, and whether it is used in its natural state, or is tinted, painted. As well, the cost of your project will be influenced by whether or not you choose solid wood, or wood veneers. From the old-fashioned charm of country or Scandinavian-inspired kitchens to resolutely modern ones, wood is a sure bet that will stand the test of time.
Wood is durable and heat resistant, but sensitive to moisture and scratches. 
– cabinets, counter, island, backsplash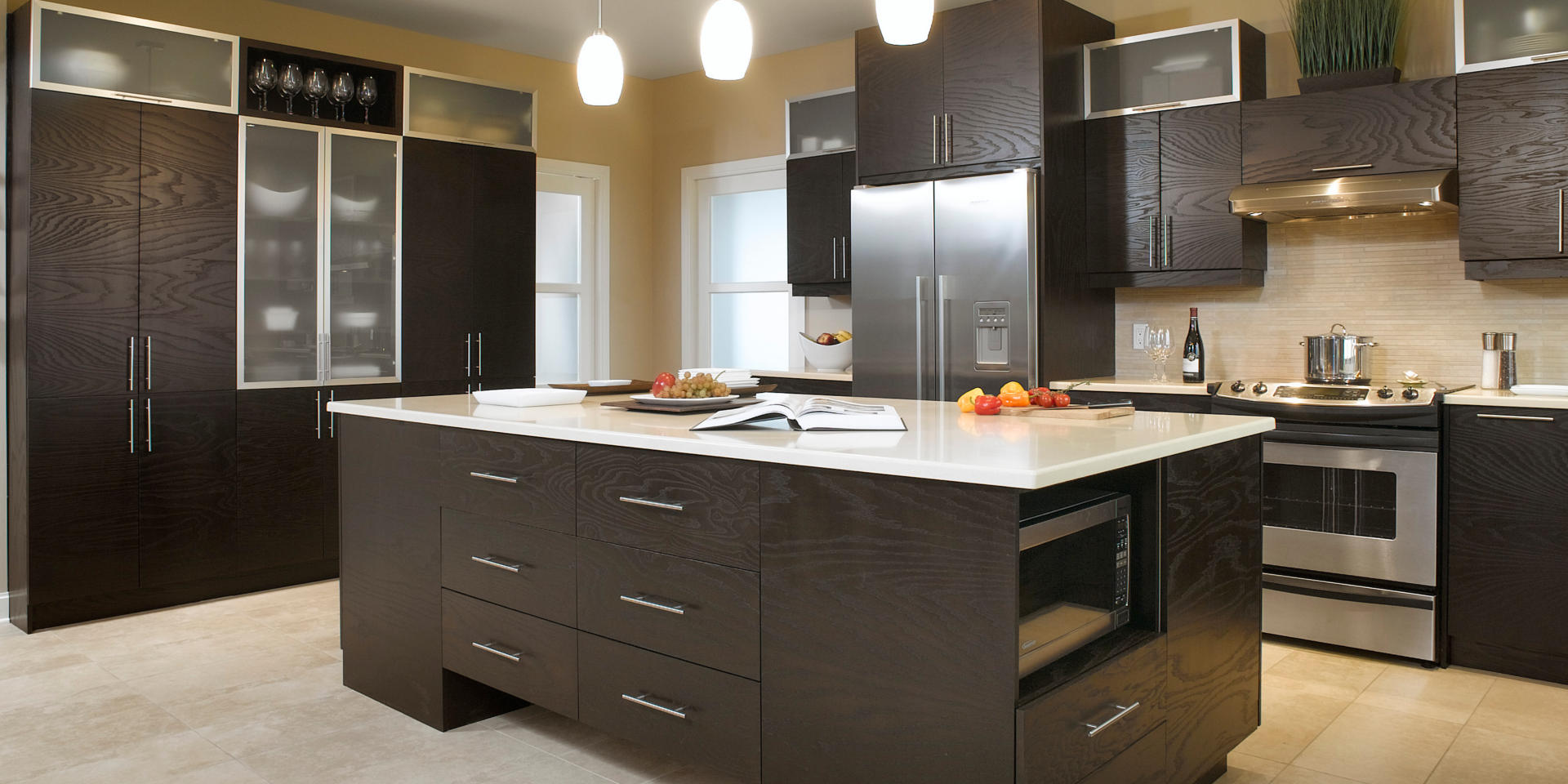 Photo credit : Armoires cuisines action
Solid surfaces
Solid surfaces include a family of composite materials made from a combination of natural materials, resin and pigment. Extremely robust, they are easy to maintain, especially since they are non-porous. For the same reason, they do not stain easily and are well-suited to damp environments. 
– counter, island, backsplash
Concrete
To give your modern kitchen an edge or an industrial look, concrete is the perfect choice. It comes a variety of appearances, thanks to the use of pigments and finishing products. 
Solid and strong, concrete needs some maintenance: due to its porosity, it needs to be sealed every year. 
– counter, island, backsplash, sink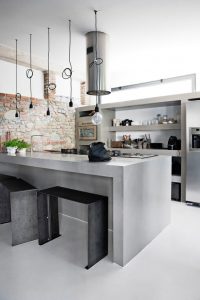 Photo credit : Turbulences Déco
Stone
Stone, whether natural or synthetic, is a perfect choice for kitchens. Synonymous with elegance and luxury, it is known for its hardness, durability and beauty. Even though it is heat resistant, its porosity requires regular application of a sealer.  Once this has been taken care of, it is easy to clean, but remains vulnerable to liquids, especially those which are acidic or oily. On natural stone, any spill should be cleaned up quickly.
Natural stone: granite and marble  
Granite is the most affordable stone, which no doubt is why it is so popular. It is found in various shades of grey, pinkish beige, black and white; mostly a mix of a few of these colours. It naturally has veins, spots and cracks.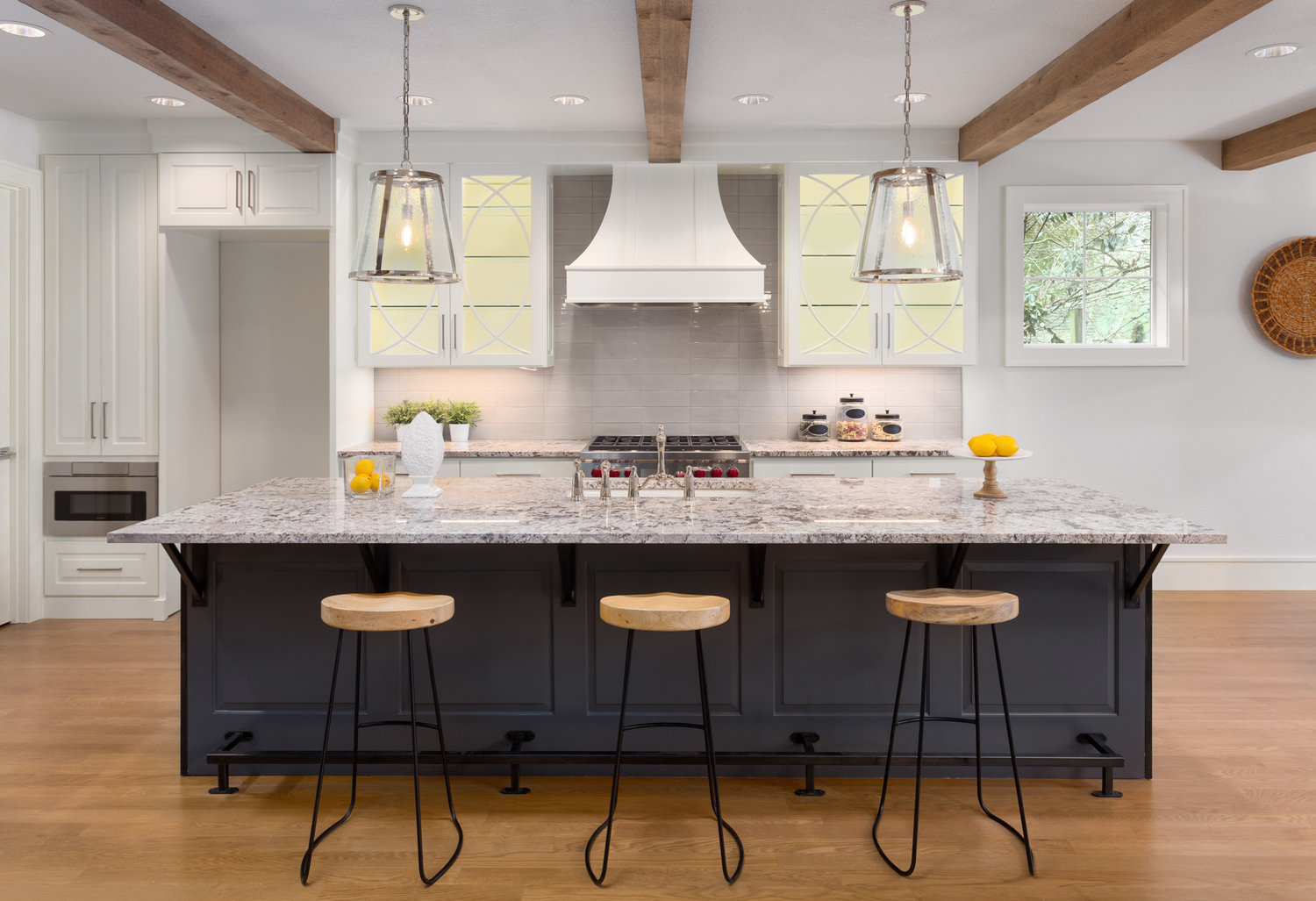 Photo credit : Granite au sommet
Marble is the king of stone. Recognized for its noble, classic aspect, it is a good choice for larger budgets. As is the case for granite, each piece is unique, due to the veins of metal oxide that run through it. Even if marble is often associated with the colour white, it is found in a wide variety of colours. More fragile and porous than granite, when it is used as a countertop, it is better to use trivets, cutting boards and coasters to protect it.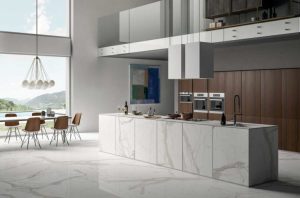 Photo credit : Résidences Décoration
Artificial stone: quartz
Quartz, as a building material, is an artificial stone made of over 90% natural quartz mixed with resin and pigment. Quartz is very resistant and not very porous: it doesn't require a sealer and it is easy to take care of. It can mimic granite and marble, but can also be one solid colour. It has a refined, uncluttered appearance.
– counter, island, backsplash, sink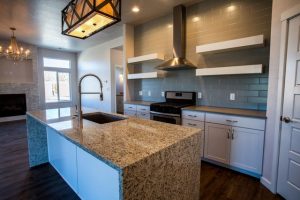 Steel, copper and brass
In the kitchen, metallic elements include more than just appliances. A steel or copper tile backsplash, an island entirely covered with brass, both are options to consider if you feel adventurous (and have deeper pockets).
Stainless steel
Even if stainless steel is inevitably associated with industrial kitchens, it definitely gives your kitchen a certain look. Either used in small accents or all over, stainless steel may appear cold at first glance, but gives an impression of purity and elegance.
Stainless steel is extremely durable, heat resistant and easy to take care of. In the long run, scratches can reduce its shine.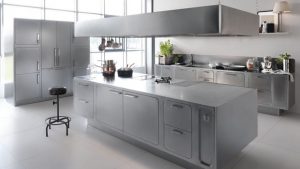 Copper and brass
Unlike steel, copper and brass are usually associated with the warmth that they add to a room, due primarily to their distinctive colour.
Both share steel's resistance, but taking care of these materials is a challenge, since they are subject to oxidation and tarnish.
– counter, island, backsplash, sink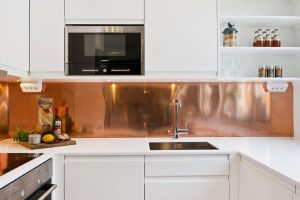 Photo credit : Maison Créative
And more…
Many other materials and products can be used in your kitchen. A glass or Vetrazzo countertop, a terrazzo backsplash or even cabinets covered in Brillanté can also serve as focal points or accents.
Get inspired, shop, compare, touch, calculate and ask questions! To make a wise choice, you have to be committed. Your reward will be a magnificent kitchen where you'll enjoy spending time, as well as a functional one, where you'll enjoy cooking!