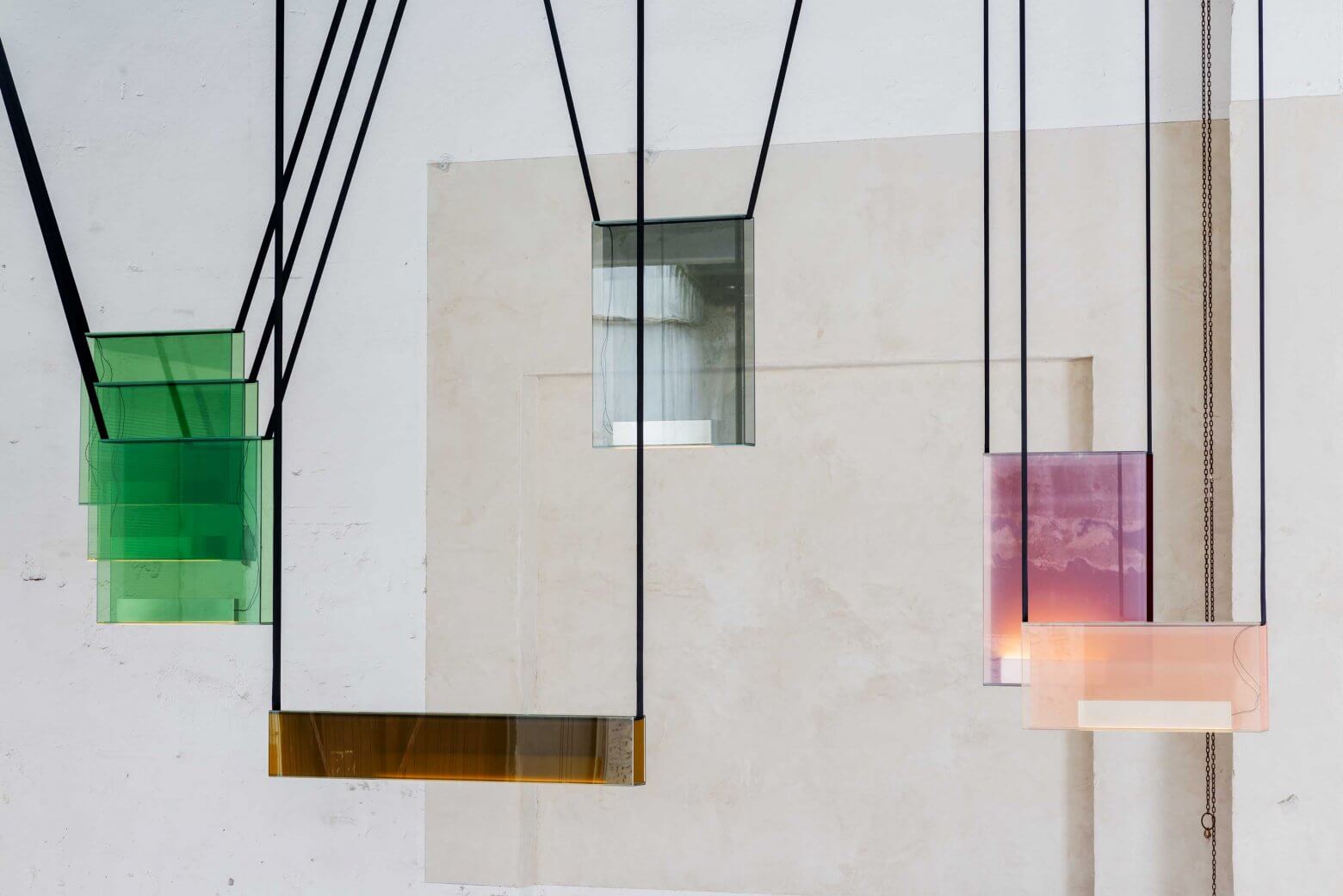 Sep
05
Here Are the Trending Lighting Fixtures for 2019
Lighting fixtures play an essential role in the story being told by the design and atmosphere of your home. Aside from their obvious utility in your house, they embellish spaces with their appearance and by sculpting the rooms they adorn with the light they diffuse.
Whether it's a suspended fixture, a ceiling one, or a lamp, they are made from the most diverse materials and they can punctuate any décor by creating harmony or contrasts just as well as they can delicately blend into it to create a sober refinement. And when it comes to light bulbs, an infinity of possibilities allows you to create bespoke atmospheres regardless of a room's needs. 
The sheer quantity of available choices of suspended luminaires or floor lamps for your bathroom, kitchen or living room is both mind-boggling and exciting. 
From beautiful and utterly contemporary dome lamps to Scandinavian-inspired bedside lamps and geometric ceiling lights, here is a review of what's trending in 2019 in the world of home lighting.
Industrial Style
The popularity of the industrial look shows no sign of slowing down in 2019. 
When it comes to decoration, the industrial trend finds inspiration in the interiors of plants and manufactures of the first half of the 20th century. It is defined by a mix of old and contemporary and features raw materials—metal, wood, stone—that sometimes show some wear and tear. The lines are simple and it is all about the contrast between the materials.
When it comes to lighting fixtures, the most common ones are stainless steel, brass, weathered wood and concrete. As a matter of fact, we owe the current trend of very visible light bulbs in lamps and other fixtures to the industrial trend. Exposed light bulbs do fit perfectly in a rustic-industrial-chic décor, but they can also create surprisingly gorgeous results in a more contemporary space.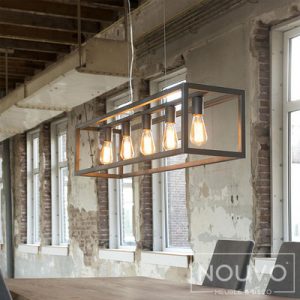 Natural Materials
The ethnic chic style is another very popular trend in Quebec. Evoking travels, exotica and a "handmade" feel, this trend is replete with natural materials and soft colours, souvenirs from abroad and simplicity.
Ethnic chic luminaires are made of wood, bamboo, pottery, hemp and the materials are raw, while their design is reminiscent of African, Asian or Indian arts and crafts.
Natural materials are not exclusive to this style, however. There are magnificent examples of very contemporary-looking lamps made from all kinds of wood.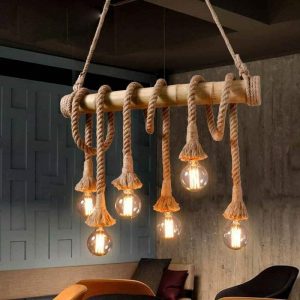 Photo credit : Maison et confort
Geometric Shapes
Beautiful angular geometric shapes are ideal to give your dining room that special personality or to jazz up the apparent monotony of a classic bedroom.
Many of those lamps are designed with angles that define an empty structure where the source of light is apparent and becomes the source of the fixture's aesthetics. There are plenty of variations on the theme to meet your every need; ceiling lights that evoke a beehive, utterly simple wall lights that look like a slightly folded piece of paper, or even a suspended lamp that is reminiscent of Habitat 67.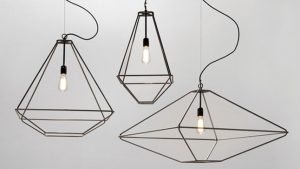 The round shape, which is a natural when it comes to lighting, can express many things through the materials used to shape it or by using unique curvatures.
Fans of minimalism will enjoy uber-design futuristic fixtures that use fine geometry to express a subtle elegance.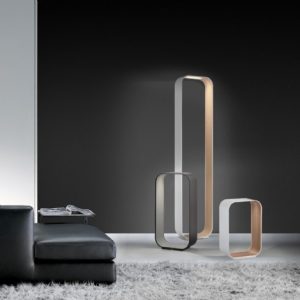 Photo credit : Royaume Luminaire 
Mid-Century Modern
The Mid-Century trend has its roots in the aesthetic signature that developed from the 1930s to the 1960s. It is characterized by noble materials, pure lines and a smart combination of form and function; it is often compared to the Scandinavian style, especially when it comes to light wood furniture—teak being the star of the show.
But the two styles differ mainly in one aspect: accessories and decorative elements. The modern style will favour bright colours, patterns and graphic prints to create an eye-catching contrast with the simple lines and the colour of wood. 
The colours often associated with this trend are bright colours such as green, turquoise and yellow as well as more earthy colours such as sienna and olive green.
In this trend, luminaires tend to have original shapes and use chrome and transparence to bring a touch of energy and nostalgia to any décor.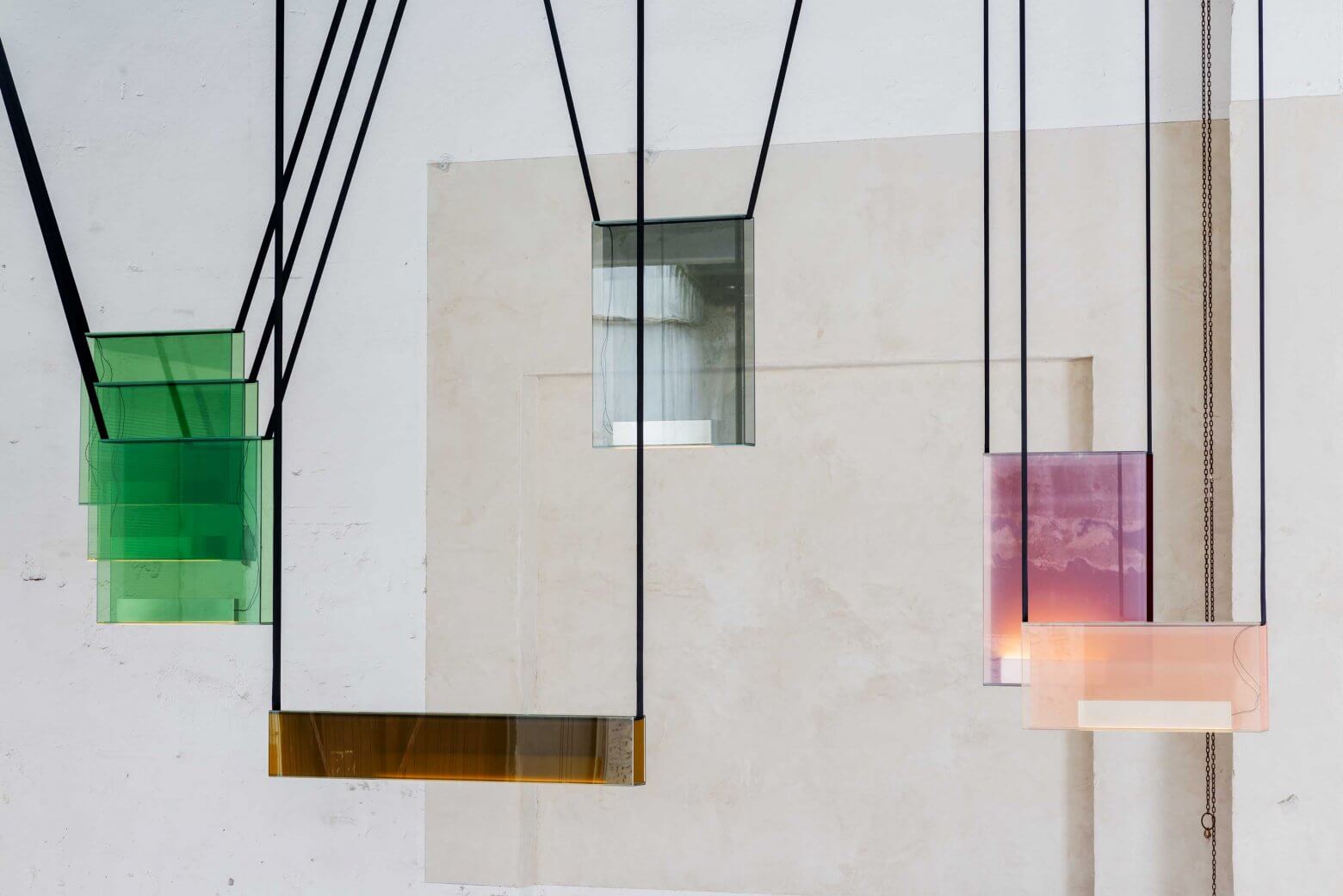 The Contemporary Style
The contemporary style shares a love for natural materials and unique shapes with pure, soft lines that the modern style does. The colours, however, are more neutral: shades of white and grey, black and beige. The contemporary style exudes elegance, finesse and serenity.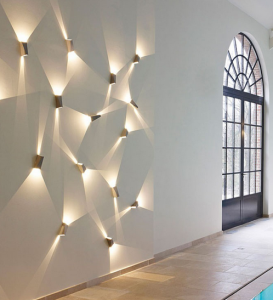 Light fixtures associated with this trend use the same characteristics and a good variety of materials, but always with a pared-down look and a predilection for an absence of flourish and even of textures.
Among some of the immensely popular contemporary lamps are dome lamps, fixtures that, depending on their materials and colours, seem to have magical powers when it comes to raising the chic level of a room or bringing a refreshing atmosphere to it.
Photo credit : Interieurdesign101
Technological Innovations
The realm of luminaires and lighting is no stranger to the idea of putting technology at the service of design, and creators can boldly experiment with this new form of light. While maybe not a trend in and of itself, we will look at the innovative aspect of products that may influence future trends.
The prodigal son of Brooklyn-based studio Trueing, the Janus lamp uses a special kind of glass—dichroic glass—to recreate what looks like northern lights on your walls. What a genius way to enhance your living room's atmosphere!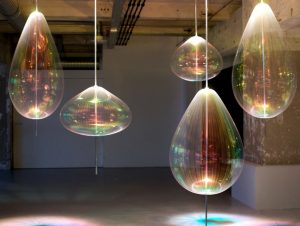 Tala, a London-based company, has given itself the mission of revolutionizing LED light bulbs mainly by featuring their durability in refined designs inspired by nature.
The Urchin lamp is a paper lamp whose shape can be changed at will thanks to its unique geometric design. It also uses LED lighting that is incorporated in its structure.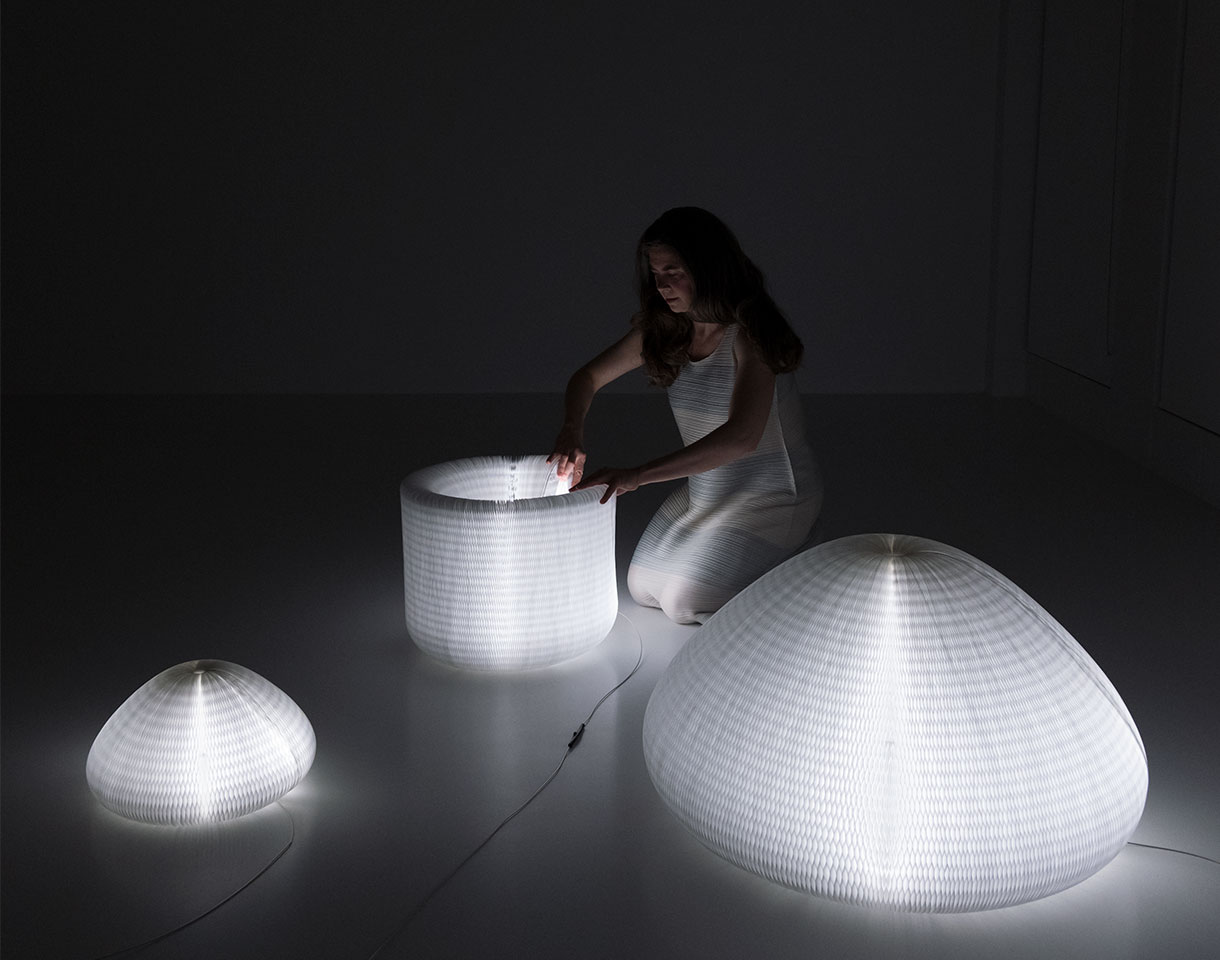 Something for Everyone
Trends are movements that take hold in the zeitgeist, and we can observe them or guess their presence by observing the behaviour of designers and consumers alike.
But upon closer inspection, one quickly notices that they are not set in stone and they influence one another to yield personalized environments that can be energizing or soothing.
All of those beautiful ideas are as many invitations to explore the world of luminaries and make those inspirations yours so that you can create a space that is truly you. So whether you prefer industrial suspended fixtures, floor lamps with a hemp lampshade, chromed spheres or minimalist wall lights, go for it and let them shine in style on your favourite moments and emotions.